Cool Roofing Technology in Orange County, CA
A cool roof or sometimes called a "Green Roof" is a commercial roofing system that is designed to be eco-friendly, cost efficient, and help reduce carbon emissions from your building. The cool roof system can reduce heating and air conditioning costs by as much as 25 – 35% once installed and completed.
Cool Roofing Inc is certified and trained to install and maintain the eco-friendly Cool Roof systems by the manufacturers. We have been installing the cool roof systems for over 20 years and we have hundreds of satisfied clients who have taken advantages of the huge tax savings, and multiple benefits that come with a commercial roofing system like the "Green" Cool Roof technology.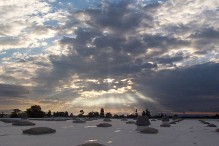 Our clients have found that the cool roof system is the best for commercial facilities because it has the longest life cycle. When it comes to commercial roofing some of tried to go a more "cheaper" route. What we have found is that the cheaper commercial roofing systems are actually more expensive to maintain, provide no tax benefits to the building owners and the payback time is longer.
The Cool Roof roofing systems can be expensed on first year taxes, are Title 24 Compliant, have no harmful smells or fumes and come with a 10, 15 or 20 year warranty that is renewable.
Cool Roofing is Energy Saving
States like California, Arizona, Florida and Chicago have already enacted strict energy standards that cover a building's roof system. The commercial roofing system of Cool Roof technology meets the standard set up by these states.
If you would like to hear more about how you can benefit from the Cool Roofing commercial roofs technology simply call us at 800-794-8200.
• It has low installation costs. There are no dump fees and compared to other types of roofing, there is less labor involved so most of the cost is for the roof
• membrane material itself.
• Unlike the traditional "hot mop" roofing, with Cool Roofs there is no hot asphalt or fumes involved.
• Cool Roofing can be installed without tearing off your old roof, which can expose the inside of your building to weather damage.
• Applying a Cool Roof is quieter for the building occupants since there is no heavy tar equipment being used.
• Easy maintenance. Traditional roofs are covered with gravel or some other type of granules to protect the surface of the roof. With a Cool Roof system, the
• covering used is smooth and seamless and does not require any kind of gravel cover.
* Most of all the Cool Roof technology will cool the inside of your building by 10 to 15 degrees saving you thousands of dollars on energy costs.
Call 800-794-8200 Today For a Free Estimate